It seem i'm stuck in all of my game, i had 2 time the upgraded folder, the first time i overextended ran out of fuel, second i don't remerber how i lost.

But it seem the upgraded folder, is mandatory because i'm stuck in nearly all my game, the others game it's game over before i make half the way toward an objective.

A lot's of planet are at the very edge of my jump capability ! 1-2 pixel further!

Is the upgraded folder mandatory ?

Do the dev planned to improve how the world is generated ? space more the unreacheable planet ot make more path possible

Is it a device related bug, nexus 5 here ?

R22




Posts

: 24


Join date

: 2014-03-06



And something else wrong in generation process

last run :

32 systems visited
2 living planets !!!

R22




Posts

: 24


Join date

: 2014-03-06



I just had this nice situation. I achieved a big ship about 10 jumps after the beginning, received lots of blueprints and was able to craft both wormhole generator and death seed before I even met the Death people! Low oxygen and fuel use and long range! Yay! Then I reached the red system, only 3 jumps to go ... Fuel storage full to the brim? Let's go!
First system: Only a rock planet. Okay. Refuel a bit.
Second system: a black hole. Weeeeell. Refuel a bit more.
Third system: a black hole. And an event with losing -20 fuel. What?
Okay, I reach the red system. Yeah yeah, i know what to do. Any petrol for me? No? Meh. (SUGGESTION: the star iron are so hot for getting rid of the judges/architects, why don't they give us 100 / 100 / 100 to help us a little bit...? ).
Okay. Had to use an omega for fuel, used up my oxygen storage. Let's see what the star on the other side of the system has to offer ... Yay! A Station! Which fills up my Oxygen ...  
 Okay, to turn back I have way too little fuel ... so my last hope is this single star over there as there are no other stars around.
A fourth black hole.
GOOD NIGHT, GOOD LUCK! *dies of boredom*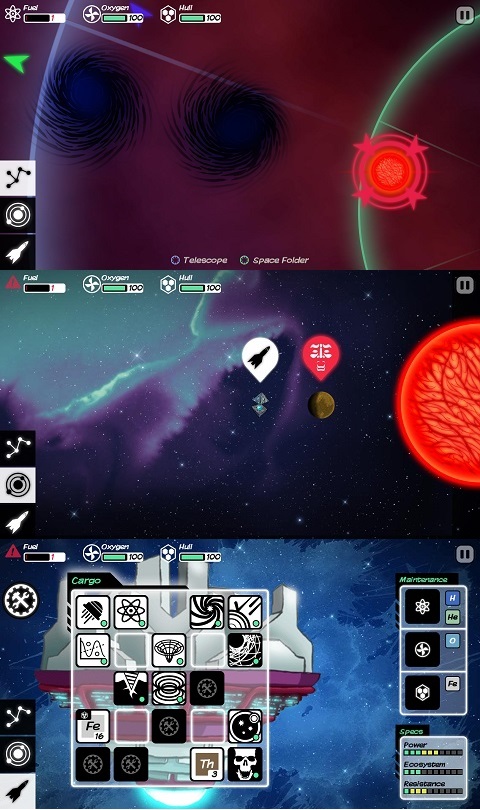 Ishtvaan




Posts

: 1


Join date

: 2015-06-10



---
Permissions in this forum:
You
cannot
reply to topics in this forum