Dear developers,
first of all: I love your game! It is amazing, and creates a unique atmosphere of solitute
After playing a few rounds, I came up with some ideas. (Some got already mentioned here in the forums, but not all)
I would be really happy, if you read those and give me some feedback about what you think of them, and whether or not I / we can expect some of those to be implemented
1. Enable immersive-mode for the android version
2. More animated stars/ planets like the black hole. I love the spinning animation. It lets me feel so small! Maybe you could add an effect for every main-sun/star in a solar-system? Or maybe go even one step further and make every planet spin?
3. Add a few layers of parallax scrolling to the star map, so there are blurred-out stars in the background. It makes it look less flat and adds more depth, which MASSIVLY improves the feeling of being small and lonely. (I hope you get what I mean
)
So please, let me know what you think / if we can expect anything from the list to come!
Sincerely,
Jona

nthnism




Posts

: 1


Join date

: 2014-03-28



Yes to all of the above. I would love to see a little more animation put in to the game but at the same time I would like to have an option to automatically skip the travel animation in the options menu. After my first play though I never stick around to watch it and always have to press skip.
While we are on the subject of in game graphics if I am orbiting this lovely green planet -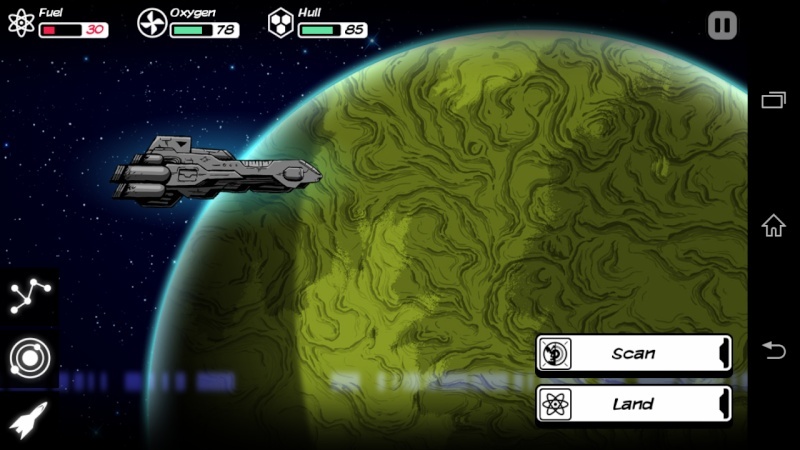 Why does it look like this when I land?
Can we change the colour of the planet on the landing screen to match the colour of the planet being orbited please?
Also it would be cool if when you get to a garden planet such as this -
We could have animated clouds as well.
I know this isn't supposed to be a graphic rich game but a few small tweaks could go a long way

Xenomorph




Posts

: 11


Join date

: 2014-05-10


Age

: 36


Location

: England



There will be much more landscapes when you land in Omega Edition.

MichaelP




Posts

: 212


Join date

: 2014-01-07



MichaelP wrote:There will be much more landscapes when you land in Omega Edition.
Any news on an approximate release date on the Omega Edition?

UberBaumer




Posts

: 23


Join date

: 2014-07-09



---
Permissions in this forum:
You
cannot
reply to topics in this forum